This article originally provided by The Charleston Gazette
August 27, 2010
In Braxton, there's a whole lotta shakin' going on
Is gas drilling causing earthquakes?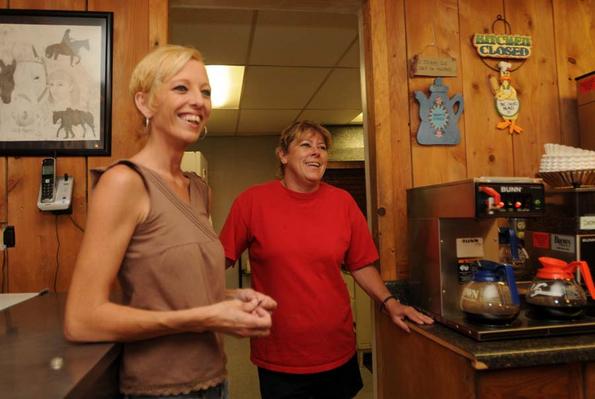 Kenny Kemp
A series of earthquakes that began in April has been a hot topic of conversation at Granny's Kitchen in Frametown, where Geneva Flint (left) and Connie Sears serve customers.
FRAMETOWN, W.Va. -- What's shaking in Braxton County these days?
For the past five months, pretty much everything - especially the area surrounding the communities of Frametown and Gassaway.
Since April 4, eight small earthquakes have been recorded in Braxton County, and another two in nearby Lewis and Upshur counties. The seismic events ranged in magnitude from 2.2 to 3.4 - not strong enough to cause significant damage, but powerful enough to rattle shelves, awaken sleepers and stimulate speculation as to their origin.
"It's been the big talk of the town," said Geneva Flint, who works at Granny's Kitchen in Frametown. "People would come here and discuss the earthquakes and wonder about what's causing them - but we've had so many now, it's starting to get a little old."
In the Frametown area, the most memorable tremor was the first in this year's series - a 3.4 magnitude quake that took place at 5:10 a.m. on April 4, which was Easter Sunday.
"I thought a tree had fallen on the house," said Lynette Grantham, who lives between Frametown and Gassaway. When she investigated and found that it hadn't, she went online and learned that an earthquake had been recorded.
Because noticeable tremors are such rare occurrences in the area, "Everyone I've talked to thought they were crazy for feeling something that night, until they found out it was an earthquake," Grantham said.
The April 4 earthquake, with an epicenter a few miles west of Frametown, was followed by three quakes on April 29, each of them also centered within a few miles of Frametown and Gassaway. On May 7 and 8, quakes measuring magnitude 2.6 and 2.8, with epicenters on both sides of Interstate 79 near the Servia rest area, were recorded, followed by temblors of magnitude 2.4 and 2.2 on July 24 and 25, both centered just west of Gassaway.
On Aug. 15, a magnitude-2.5 quake was recorded near the community of Ireland, about two miles inside Lewis County from the Braxton County line. A similar size quake took place Aug. 21 a few miles to the southeast at a point just inside the Upshur County boundary near Kanawha Head.
Among area residents puzzled by the profusion of earthquakes in a seismically quiet area was Braxton Citizens' News publisher Ed Given.
"I'm 60, and I've lived here all my life," he said, "and never heard of any earthquakes happening here."
As the quakes continued, Given tried to identify something different taking place in his county that could be related to the increased seismic activity.
Between Frametown and Gassaway, a cluster of 12 storage tanks had been installed at a site across W.Va. 4 from the Coastal Lumber mill the previous year.
"I heard rumors that they were injecting fluids from the tanks into an old mine or old wells or something," said Given. "It was one of the only things different or new happening around here."
While he kept that tidbit of information in mind, he didn't immediately know what to do with it.
After four quakes rattled the county in April, followed by two more in May, Given received a letter to the editor from Marshall University geology professor Ronald Martino in June, addressing the topic of local earthquakes.
"I realize there has been some anxiety over the recent earthquakes in Braxton County," he wrote. "It is quite possible that these earthquakes are the result of fluid injection. Drilling in the Marcellus Shale for natural gas in Northern West Virginia has involved hydrofracking of horizontal wells, which has produced large amounts of wastewater. The disposal of this water, as well as brine that is produced from oil and gas wells, is injected back into the earth at a depth of up to several thousand feet."
Martino added that geologists have known for a half-century that "fluid injection along locked faults can trigger small to moderate earthquakes." The increase in fluid pressure, he wrote, essentially lubricated "the frictional resistance to movement along the fault zone, allowing the fault to slip more readily."
Martino wrote that at least one disposal well was in use in Braxton County, at a site off W.Va. 4 about 2.5 miles north of the Frametown exit of Interstate 79, which Given realized was near the point where the new storage tanks had been placed.
The Marshall professor said he didn't know who operated the injection well, but he wrote that its "potential impact on faults beneath Braxton County should be explored further," and said he was forwarding his concerns to the West Virginia Geological and Economic Survey.
Given began scanning the Internet for information on the use of fluid injection, or hydro-fracturing, as a process for extracting gas, particularly gas trapped beneath the deep Marcellus Shale formation now attracting interest from drillers across West Virginia, including in Braxton County. He also developed contacts at the West Virginia Department of Environmental Protection, and learned that the disposal well mentioned by Martino was a 6,500-foot-deep unproductive Marcellus well drilled by Chesapeake Appalachia LLC that had later been licensed as an underground injection well by the DEP in 2008.
Given discovered that the well, located 1.5 miles up Lower Rock Camp Hollow from the new storage tanks, has been used to dispose of more than 10.6 million gallons of brine and hydraulic fracturing fluids between March of 2009 and June of this year.
He also learned that the fluids had been used in the extraction of gas from Marcellus formations in the Rock Cave area in Upshur County. After they were pumped out of the ground, they were trucked to Frametown, offloaded in the tanks off W.Va. 4, and then pumped up the hollow and injected more than one mile into the earth through the Chesapeake well.
"We've been recycling a lot of our frack water at the drilling site," said Chesapeake Energy production superintendent Scott Nease, during a tour of his company's Braxton County disposal operation on Thursday. "That reduces the amount of water that has to be taken to wells like this. Basically, we're just putting it back into the earth, from whence it came."
The state-of-the-art pumping station for the Chesapeake disposal well was built 18 months ago, and began injecting brine and recovered fracking fluids last March. Tanker trucks operated by Hawg Haulers, a Chesapeake subsidiary, carry waste fluids from the Rock Cave Marcellus gas fields to the site, and offload into six receiving tanks. The water is then passed through 50- and 25-micron filters to remove sand and grit, and pumped into six "clean" tanks, before being pumped through a buried pipeline 1.5 miles to the well head, after anti-rust agents have been added to prevent corrosion to the well casing.
A concrete containment wall surrounds the storage tanks to provide protection in the event of a leak or spill, and automatic shutoff valves have been installed to halt pumping in the event of a pipeline rupture.
"The well is licensed to not exceed 2,100 pounds per square inch of pressure at the surface, but water is being injected at only about 200 pounds now, and it's never been above 700 pounds," said Gene Smith, regulatory compliance manager for the DEP.
Meanwhile, Smith said, "We're looking at the mechanics of the well, the geology of the area, and the events that have been happening in the area, to see, from a scientific level, if what's taking place could cause earthquakes." So far, he said, no correlation has been determined.
Smith said there are 70 similar brine-disposal wells in West Virginia, including some that accept water in volumes larger than is injected into the Frametown well. None of them have been known to produce seismic events, he said.
Even so, Smith said, the DEP and Chesapeake are discussing possible seismic monitoring near the Braxton County disposal well, and the gas production company has agreed to a DEP recommendation to reduce the volume of water being injected into the well.
In August of last year, Chesapeake Energy shut down two brine-disposal wells in the Dallas-Fort Worth area of Texas, after a series of earthquakes ranging from magnitudes of 2.5 to 3.3 were recorded in close proximity to one of them.
The wells were used to dispose of brine produced by drilling for natural gas in the Barnett Shale formation. Quake epicenters were recorded within 3,300 linear feet, and about 1,000 vertical feet, from the base of a disposal well drilled on the grounds of Dallas-Fort Worth International Airport, which had accepted 2.8 million barrels of water during the past year.
In a Dallas Morning News article, Cliff Frohlich, associate director of the University of Texas Institute for Geophysics, said the presence of the injection well and the onset of earthquakes is related.
"We have not proven it with scientific certainty," he said, "but we're looking at these as induced earthquakes."
"We know that natural seismicity has long been observed in this part of Appalachia, and that natural seismic activity often occurs in clusters," Chesapeake Energy spokeswoman Maribeth Anderson said in a statement regarding the Braxton County quakes.
Anderson said 25 earthquakes have been reported within 100 miles of the Braxton County tremors during the past 10 years, including a magnitude 2.5 quake that occurred on Oct. 16, 2000.
That said, "We are working cooperatively with the West Virginia DEP to better understand the location and timing of the recent minor seismic activity," Anderson said.
"There are no earthquakes to speak of in that part of West Virginia," said Martin Chapman, director of the Virginia Tech Seismic Observatory. "Earthquakes of the size recorded this year near Gassaway could happen naturally, but probably not so many, so close together. ... Something's going on there, and I have a strong suspicion that it's something associated with drilling. As more Marcellus wells are developed, I think we'll be seeing more of this happening in West Virginia."
"Injection in other parts of the country is believed to cause pressure conditions that can reactivate old, inactive fault lines and cause small earthquakes," said Michael Hohn, state geologist and director of the West Virginia Geological and Economic Survey.
"As far as I know, there's no definite answer as to what's causing these earthquakes," Hohn said, "but when they are clustered like that, it's time to pay attention."
According to the U.S. Geological Survey, the strongest earthquake in otherwise seismically quiet West Virginia took place on Nov. 19, 1969, when a 4.3 magnitude quake cracked plaster and shattered windows in Athens and Lerona, in Mercer County.
On Aug. 11, 1970, a small shock in the west-central part of the state was felt from Charleston to St. Albans and Hurricane.
Reach Rick Steelhammer at rsteelham...@wvgazette.com or 304-348-5169.