This article originally provided by The Charleston Gazette
January 20, 2011
Marcellus is 'game changer' for W.Va.
State's natural gas production to hit record high this year, industry execs say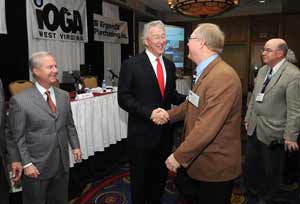 Chip Ellis
Chesapeake Energy CEO Aubrey McClendon (center) shakes hands with Charlie Burd, executive director of the Independent Oil and Gas Association of West Virginia. They are flanked by EnerVest CEO John Walker (left) and Dan Holder, a writer with the American Oil & Gas Reporter.
By Eric Eyre
CHARLESTON, W.Va. -- Natural gas production in West Virginia is expected to set a record in West Virginia next year -- mostly because of expanded drilling in the Marcellus shale formation, gas company executives said Thursday.
West Virginia's natural gas production peaked in the 1970s, then declined or leveled off over the next 35 years. However, production has increased 25 percent during the past five years, said John Mork, president and CEO of Energy Corporation of America, which has a regional office in Charleston.
"The Marcellus and horizontal drilling have changed the game," Mork said during Thursday's meeting of the Independent Oil and Gas Association of West Virginia. "The Marcellus is so prolific that national companies can afford to come here. They will be here forever."
National companies include Chesapeake Energy, which closed its regional headquarters in Charleston two years ago, but continues to expand drilling operations in West Virginia.
Since 2008, Chesapeake has spent $600 million on facilities, equipment and other capital improvements in the state, Chesapeake CEO Aubrey McClendon said Thursday.
The company -- the second-largest natural gas producer in the United States behind Exxon -- also made $200 million in bonus and royalty payments to land and mineral owners over the past two years, McClendon said.
McClendon estimated that Chesapeake's potential investment in West Virginia could reach $37 billion in the coming decades. Chesapeake now has 400 workers in West Virginia and plans to create additional jobs that pay between $40,000 to $100,000 a year, he said.
"The Marcellus is going to be the key to our future in this basin," McClendon said of the massive natural gas field that stretches through most of West Virginia. "Whatever prosperity you've enjoyed, over the next 20 years, it's going to pale in comparison. [The Marcellus shale formation] is a remarkable piece of real estate."
McClendon took a shot at West Virginia's judicial system Thursday.
Two years ago, Chesapeake closed its Eastern regional headquarters in Charleston and eliminated 215 jobs. At the time, the company blamed the decision on a 2007 multimillion-dollar jury verdict against Chesapeake in a Roane County royalties' case.
In May 2008, the West Virginia Supreme Court voted 5-0 to deny a request from Chesapeake for an appeal, upholding a jury verdict that required the company to pay $405 million in royalties and punitive damages to landowners who allegedly were cheated.
On Thursday, McClendon displayed a PowerPoint slide that listed the reasons why Chesapeake "likes" West Virginia.
"There was a day I loved West Virginia," he said, "before I had an encounter with your court system."
McClendon added that the Roane County verdict cost the company "for something I didn't do" and "couldn't get your court system" to hear an appeal.
During a later question-and-answer period, former Secretary of State Betty Ireland told McClendon, "I'm sorry we avoided giving you the appellate court level you asked for. I'm hoping to do something about that." Ireland plans to run for governor.
The West Virginia Chamber of Commerce has pushed for an intermediate court of appeals -- or "business court" -- but Supreme Court justices have rejected the proposal.
Ireland also asked McClendon and other gas company executives whether they've been able to find qualified workers in West Virginia.
McClendon said Chesapeake announces job openings at new West Virginia drilling sites and notifies applicants they must pass a drug test. Nonetheless, about 30 percent of those who apply for jobs with Chesapeake fail the screening, McClendon said.
"You don't know if you have a literacy issue or what?" he said.
McClendon and other executives who spoke Thursday praised horizontal drilling as a "game changer" in West Virginia. For many decades, the only way to extract natural gas was to drill a well straight down into the ground.
With horizontal drilling, a drill is sent down vertically up to a mile or so underground, and then turned at a 90-degree angle horizontally into the shale for up to another mile. By doing so, the drill bit hits significantly more pockets of natural gas than it would using the vertical drilling method.
Environmental groups contend that horizontal drilling into the Marcellus shale field comes at a high cost, ranging from contamination of ground water to damage to local roadways from moving heavy equipment to production sites.
The drilling process requires hydraulic fracturing, or "fracking," which involves injecting a mixture of water and chemicals under high pressure to release the natural gas reserves contained in the shale.
McClendon dismissed critics of the drilling method, saying, "the low level of intelligence some people have about the issue is disturbing."
"If you're against fracking," he said, "you're against natural gas."
Mork of Energy Corporation of America said horizontal wells drilled into the Marcellus shale formation cost eight times as much as conventional wells, but produce 40 times the amount of natural gas. A 6-acre drilling operation could extract gas out of 600 acres of land, he said.
"Never in the history of mankind has any resource been harvested so efficiently," Mork said. "Less than 1 percent of the land is impacted. Our industry ought to take credit for all this stuff."
More than 800 people attended Thursday's winter meeting of the International Oil and Gas Association of West Virginia at the Charleston Marriott.
Reach Eric Eyre at erice...@wvgazette.com or 304-348-4869.