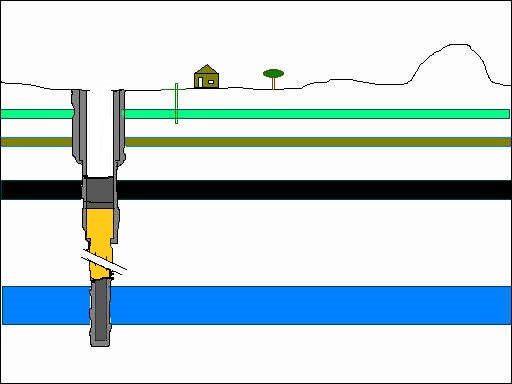 Coal seams also need to be isolated from any gas pressure or invasion.  For one thing, coal seams have a form of cracks called cleats that can allow the gas to travel broadly in the horizontal plane and cause problems anywhere the coal seam is breached or even if it comes to the surface  Also, increasing the methane in coal seams makes them harder to mine.  And finally, and most importantly, it would be very dangerous to miners for a continuous mining machine to cut through a gas well that was not properly plugged and leak poisonous and explosive gas into the coal mine!
Note that when the well was drilled, the well borehole through the coal seam was already required to have casing pipe through it and for the outside of that casing pipe to be cemented to the inside of the borehole through the coal.  But during plugging, the cemented-in production casing pipe through the coal seam —  that casing pipe  is left in the borehole is also itself, during plugging, filled with cement.  
Mining through a well borehole is so dangerous to miners that if in fact the coal seam is mined, the Occupational Safety and Health Administration may have requirements that may require the well to be re-plugged through the coal seam.  That may require re-drilling again down through the cement plug in the coal seam, and then perhaps with chains on a swirling drill bit, ripping out the un-pulled casing that is cemented into the hole through the coal seam along with that cement.  Then it may need to be re-plugged to meet OSHA standards before mining.